– Cooke 5/i Primes feature T1.4 stop and illuminated focus ring –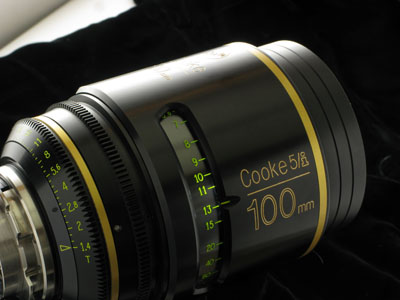 IBC 2009, Amsterdam – 11 September 2009 – Cooke Optics Ltd., the premier manufacturer of precision lenses for the motion picture industry, today launched the Cooke 5/i prime lenses, a top-of-the-range set designed for all PL-mounted professional film and electronic cameras. The 5/i range, which will be demonstrated on Stand 11.D10 at IBC 2009, further cements Cooke's reputation for lenses that are optically unrivalled, easy to use and maintain, and deliver the famed 'Cooke Look'.
"The development of the 5/i lenses has been a labour of love for us and we couldn't be happier with the results," said Les Zellan, Chairman and Owner, Cooke Optics. "We worked closely with customers to create a truly unique prime lens, providing unmatched functionality yet preserving the luminous 'Cooke Look' that marks our lenses out from the competition. Feedback so far has been overwhelmingly positive."
A key feature of the 5/i Primes is a revolutionary, dimmable, illuminated focus ring, with two separately toggled scales (cinematographer and assistant), that allow the focus puller to read the scales in low lighting conditions. The aperture stops range from T1.4 to T22. Lenses available are 18, 25, 32, 40, 50, 65, 75, 100 and 135mm.
Cooke 5/i optics offer superb optical and mechanical performance, control of flare, distortion, veiling glare and spherical aberrations at full aperture. The cam-type focus mechanism allows for smooth focus adjustments, while the modular construction increases ease of maintenance and serviceability. The lenses are colour-matched and compatible with the entire Cooke range including S4/i and the new Panchro by Cooke. /i Technology is included as standard, to provide vital camera information for post-production pipelines.
The Cooke 5/i Prime lenses are expected to start shipping in October 2009. Please visit www.cookeoptics.com for more information.
– ENDS –
About Cooke Optics, LTD.
Cooke is a storied name in both cinematographic and the ultra-high-end professional photography markets. Known worldwide for their precision, exacting tolerances and superior quality, Cooke lenses are specified by many of the world's most respected cinematographers. Cooke is also the developer behind /i Technology, the protocol enabling vital lens and camera information to be captured and passed digitally to post-production teams. Features in production or recently shot with Cooke lenses include Hamlet 2, Frost/Nixon, Milk, Zack and Miri Make A Porno, The Mummy: Tomb of the Dragon Emperor, Harry Potter and the Half Blood Prince and Angels and Demons. Television shows in production or recently shot with Cooke lenses include 30 Rock, True Blood, Trauma, Community, Back, Journeyman, State of Mind, Life, Bones, Grey's Anatomy, Monk and Entourage.
Media contacts:
Europe & APAC – Wendy Mattock, Bubble & Squeak
e: wendy@bubblesqueak.co.uk t: +44 (0)20 7287 4656 m: +44 (0)7912 300231
US – Chris Purse, Bubble & Squeak
e: chris@ignite.bz t: +1 818.508.0450 m: +1 323.806.9696